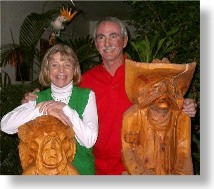 This page gives a little history of where we've been in the last several years. I've tried to put a taste of the experience in the photo, and a brief description of the event or location in a few sentences.
---

Where we've been...




Eastern Europe '21

After a week+ of driving around Romania in November, we boarded the Viking Lofn rivership with Vegas friends for 8 days on the Danube River through Eastern Europe, ending in Budapest where we spent a couple extra days. A beautiful city, for sure. Covid protocols all but ignored in the area, thank God. Airlines are bad enough. Narrow roads, aggressive drivers and rain hampered the early phase, but great weather while on board and in Budapest. A tune-up for World Cruise #2 on the Viking Star in late December for 136 days.




World Cruise '20

On board the Viking Sun cruise ship, we departed LA on January 4, 2020, to the Marquesas, Tahiti and islands west, Fiji, New Zealand, Australia, China, SE Asia, India, East Africa, on through the Suez Canal and into the Mediterranean, and ultimately ending in Greenwich England on the Thames River on May 2, 2020. Mostly warm during the 120 days, and we visited some places we'll probably never see again..




---

Antarctic/Amazon '19

A 6 week Seabourn cruise along Chile, and Tierra del Fuego, Antarctic Peninsula, east coast of S. America and the Amazon River to Manaus, Brazil. This was an adventure cruise with only 300 passengers. Lush and beautiful jungle, soaring mountains, fantastic Antarctica, and the unbelievable Amazon River, big enough for a cruise ship. The adventure of a lifetime...except for the next one.



Med Cruise '18

A 25 day Seabourn Odyssey cruise from Rome all around the Med, Italy, France, Spain, Monaco, Morocco, the Canary Islands, Madeira, and Portugal was a luxurious trip on a first class ship with only 450 passengers. Great weather other than the first few days of 10 meter swells that altered our itinerary a bit. Click on thumbnail photo to see the inside of the famous Barcelona Sagrada Familia church.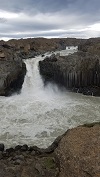 Iceland '18

Renting a car and driving the 1500 km around the island in July is the only way to see the place. The land of waterfalls and narrow roads, rivers and glaciers, and no sunset made an amazingly scenic trip. Free everything in Iceland is expensive, we found, at about $8/gallon for gasoline and $20 hamburgers. And we found out why all their hay bales are different colors.




---

Norway '18

From Southampton and back, we rode the Sapphire Princess up the west coast of Norway, into many fjords and up above the Arctic Circe for two weeks in June and July of non-stop sunlight. We never saw darkness on the entire trip. Great weather except for a cold rainy day at the North Gate in the far north. Always chilly.




---

London x2 '18

(London City Hall) Using London as a way station for the trips above, we managed about 6 days in the ancient city. Touring Parliament, The Shard, the Thames, Indian Restaurants and riding The Tube, it was easy to fill up each day. We trekked to Southampton to catch the cruise to Norway and Gatwick ariport for the flight to Reyjkevik. We need another trip to do it again and all of the UK. Oh, and Stonehenge was great, too.




---

Baltic Cruise '17

Starting in Amsterdam, one of our favorite cities, we visited Germany, Estonia, Russia (St. Petersburg), Helsinki, Stockholm, and Copenhagen on the two week cruise. Great weather, wonderful European cities, highlighted with a tour of the Peterhof in St. Petersburg. Found out that the Baltic Sea is mostly fresh water. Who knew? The photo above is the Anichkov Faberge Egg Katie bought (see Christmas newsletter 2017) on the cruise. Main photo link is of the Peterhof fountains and pond that drains into the Baltic Sea.




---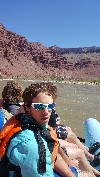 Colorado River '16

With college friend Buz Sulzner and great nephew, Sean Wood, (pictured above) we did our second Colorado raft trip, this one 8 days on the river in June. Spectacular scenery, great adventure, and great food (and beer) made it a great time for all.




---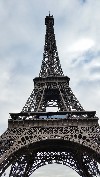 Paris to Prague '15

Beginning in the City of Light, during the pre-Christmas time, holiday markets in Paris and Prague added much festivity to the cities and the river cruise stops between them. The trip was surprisingly enjoyable, as were all the French people we encountered. English was widely spoken, making our visits even more enjoyable.




---

AUS/NZ/Fiji '14

A Christmas time visit first to a week of sightseeing and scuba diving around Fiji, on to Sydney for family gathering, then off to New Zealand, our favorite place in the world, for more sight seeing.




---
Russia Cruise '14

A brief stay in St. Petersburg folowed by a river and lake cruise to Moscow. Lots of friendly people and plenty of onion dome churches along the way. The Moscow subway system is amazingly beautiful - like an art museum!




---

Italy Cruise '13

A group tour for most of October with friends and relatives cruising from Venice to Rome for three and a half weeks was spectacular. We did extra days in Rome, Florence, Venice and Corglia on the Med. Having an Italian translator app for our phones made the language barrier disappear.




---

Salt Lake City '13

So much better than 2012. Custom fitted boots for the March 2013 trip, new "skinny" skis and decent snow. And we were accompanied by SoCal friends Buz & Sharon Sulzner. No pain. Too old for pain.




---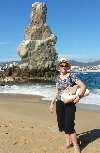 Cabo San Lucas '13

Another January trip to Cabo beats cold and windy Las Vegas. This trip is happening more frequently. We know the place pretty well and took a road trip to an art colony town north of Cabo at Todos Santos Baja Sur. Bueno.




---

Southeast Asia '12

Starting in Saigon in September '12, then up the Mekong River to Phonm Penh, Angkor Wat, and on to Hanoi and Ha Long Bay. A very friendly place, crowded with motor bikes and people, and a most enjoyable trip and fellow travelers.




---

Salt Lake City '12

The Salt Lake ski trip in 2012 was a disaster. New boots were brutal on the feet, causing us to shorten our stay considerably. Disappointing, but pain isn't fun. Next year will be better.




---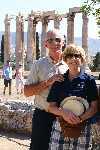 Greece/Istanbul '11

A two week cruise began in Istanbul and visited Greek isles and Athens. It was great to see the Ancient World and the historic places we had only read about.




---

Ludlow, VT '11

A Tulane reunion of the "brothers" in October at The Governor's Inn in Ludlow Vt with Jim and Cathy Kubec, proprietors, was an outstanding trip with great friends in a warm and cordial atmosphere




---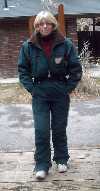 Salt Lake City '11

Our annual ski venture to Salt Lake City saw us with little new snow, plenty of sun, and spring weather in the city and good snow conditions in the mountains.




---

Playa del Carmen '10

A pre-retirment/birthday present for sister Diane, accompanied by her eldest son Ron and wife Janet made for some great fun, lots of activities and plenty of pool time in sunny Playa del Carmen, near Cancun.




---

Salt Lake City '10

A March ski trip to Salt Lake City area replaces our former Colorado trips. Spring like skiing brought us great weather, some new snow and some great skiing.




---

Cabo San Lucas '10

A January trip to Cabo beats the winter blahs. Our first trip to Cabo occurred right after I had broken an arm. Other than restricted swimming, there was little restriction in eating and drinking.




---

Europe '09

This was another combination ground/cruise with Viking River Cruises from Budapest, Hungary, to Amsterdam, The Netherlands, via the Danube and Rhine rivers and dozens of river locks. A bit chilly in November but the tours were spectacular and the scenery unbeatable.




---

New Orleans '09

We took most an October week with college friends and wives in the bayou country of southern Louisiana at a bayou fishing "camp" with all the amenities. A great time was had by all, with many fish caught and many beers consumed in the name of nostalgia for all of us former Tulane U. classmates. This was the second trip to N.O. this year, this one in September and the earlier one in July.




---

China '09

This was a 2.5 week trip in September, combining a 10 day Yangtze River cruise past the 3 Gorges Dam and visits to Shanghai, Xian, and Beijing. Wonderful scenery, albeit very polluted air, visits to see Terra Cotta warriors in Xian, the Great Wall, the Forbidden City, Tiannamen Square and so much more. Spectacular vacation and excellent shopping and real Chinese food.




---

Kauai, HI '09

We took a great week with perfect weather on the "Garden Isle" of Hawaii, with boat tours, a spectacular helicopter tour and even time for golf.




---

Beaver Creek CO '09

Another (and last) week skiing at Beaver Creek with good friends in February. Skiing, great food, margaritas at the hot tub.




---

Puerto Vallarta '08

A week long trip to PV, Mexico. Our second trip there was every bit as great as the first. Great food, scenery and for some, shopping. May is a great time to visit.




---
Alaska '07

A two week land/sea vacation in August with 3 college buddies and wives that was the vacation of a lifetime. Great friends, wonderful scenery, great side trips and evenings to reminisce. Heaven!




---

Portland, OR '07

An annual meeting of the National Boards of Pharmacy in scenic Portland in May with a side trip to visit a college friend who owns an alpaca ranch.




---
Beaver Creek, CO '07

A week of skiing in February in the Colorado Rockies with friends with some actual snowfall this time. A wonderful time with friends for good food, margaritas at the hot tub, and good skiing.




---

Lake Mead, NV '06

We took the boat out for a short summer cruise and encountered the worst storm we've ever experienced, but all hands survived the harrowing experience.




---
New Orleans '06

A summer trip to New Orleans to visit relatives and eat muffalettas and drink hurricanes.




---
San Francisco '06

Another National Board of Pharmacy meeting in scenic San Francisco in April.




---

Jackson Hole '05

Another in a long line of Boards of Pharmacy meetings in scenic locations-July in Wyoming.




---
New Orleans '05

A mid-summer trip to New Orleans and a high school reunion in Mississippi followed by another trip in late August, just prior to Hurricane Katrina.




---

Lake Mead, NV '04

We took the big boat out for a one week cruise around the receding lake. Crewmembers included us and Katie's mother and older brother, Woody. We exacted enough free labor that no one was forced to walk the plank.




---

Chicago, IL

The centennial year of the National Boards of Pharmacy met in the hometown of the main office in April 2004. A bit chilly, but a nice trip.




---

Beaver Creek, CO

Our annual winter vacation again scheduled in February, but this time in 2004. We shared our accommodations with novices nephew Ron and wife Janet from Atlanta this year. Yeeehaaaa! Only minor injuries incurred.




---

Glacier National Park, MT

August and September 2003 brought another pharmacy board meeting in Whitefish, MT. Yeah, Glacier park and Waterton Park in Canada were beautiful, but smoke clogged due to the forest fires in the areas. But we had a great time anyway.


---

Philadelphia, PA

In May, 2003, we were off to Philly for the 2003 National Boards of Pharmacy meeting. Katie did her Rx stuff and I got in as much golf as I could. Rain (what the hell is rain?) contributed to an abbreviated golfing schedule. But very historic and great sandwiches.


---

Beaver Creek, CO

Our annual winter vacation occurred in February, 2003. We shared the ski adventure with friends Buz & Sharon Sulzner and Dennis Flynn. It had to be the free margaritas that brought 'em.


---

Costa Rica, C.A.

In August, 2001, we traveled to Costa Rica for two weeks of R&R. Brother-in-law Woody accompanied us. One week on the Pacific Coast swinging on ropes through trees, chasing monkeys off the 'road' and sweating filled our week on the Pacific Coast. A meeting for dinner with a purported neighbor of Pablo Escobar was a highlight we'd prefer to forget. Discovering the national parks around San Jose and driving up volcanoes provided our entertainment for the week in San Jose. Green, hot and humid.


---

Seattle

In May, 2001, we were off to Seattle for a week long trip for Katie to do her pharmacy thing on a national basis. The weather was typically chilly but we avoided real rain but did experience a bit of drizzle and cloudiness. The view of the volcanoes in the area from the plane was impressive. However, the Seattle Space Needle seemed tiny compared to the Stratosphere Tower of Las Vegas. Sorry.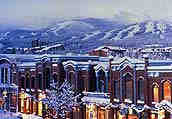 Breckenridge

January 12-19, 2001, we're went for a week long ski vacation to the Colorado ski heartland in Breckenridge. Cold weather and little snow stick in our minds about this driving trip. Also we saw the international snow sculpture competition in the town. At least we hadn't forgotten how to ski.


---

Tucson

In late September, we went to a 5 day regional Pharmacy Board meeting. Well, that's Katie's business. In reality, it was Katie for Rx, Rx, and golf. Me, it was golf, golf, golf! And the Ventana Canyon course in northern Tucson was extrordinary. We can't say the same for the quality of our games, however. I came back with a better tan, Katie ended up Chairman of District 7 of the National Board.


---
New Zealand

Wow! You don't want to miss this little story and the great scenic photos of this beautiful country. So just click on this link to go to the South Pacific Adventure pages to see some of New Zealand!


---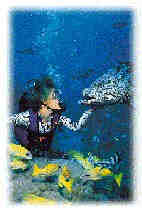 Australia

There was way too much information and too many photos to put here, so click on this link to go to the South Pacific Adventure pages and see Cairns, Brisbane, and Heron Island!


---

Fiji

There was much too much to put in than could be put here, so click on this link to go to the South Pacific Adventure pages!


---

Grand Cayman

In early November, 1999, we took our annual scuba vacation, this time to Grand Cayman. We had incredible weather! 10 inches of rain in 5 days. 7 straight days of rain. Total sunshine - about 10 minutes. Diving was drier than walking outside. Despite nearly floating the rental car several times, we enjoyed the change of scenery and actually had a fun time. Driving a right-side drive car on the left side of the road in torrential rains was certainly an adventure. Over 500 km driven on an island only 40 some km long. Just like home!

---

Albuquerque

In late May '99, we were off to a national meeting of the National Boards of Pharmacy, held this year in Albuquerque. After the meeting stuff was over we scooted up to Santa Fe and also took a day exploring Taos. That and some visits to the pueblos made for a very interesting trip.

---

Aspen

In early April '99, we drove to Aspen for late season skiing. We were rewarded with unusual snowfall and great conditions. We also found out just how out of shape we really were.

---

New Orleans

New Orleans in October '98 to visit old friends and see a Tulane Homecoming. Both were very successful.

---

Whistler/Blackcomb

Whistler/Blackcomb Mountains in May 1998. The sun was bright and the skiing was very good, even that late in the season.

---